The information that appears in users' feeds on social media platforms is chosen using a set of rules and computations called a social media algorithm. Based on their behaviour, interests, and preferences, these algorithms aim to provide consumers with the most relevant and interesting material.
Algorithms consider a number of different characteristics to choose what content to show people on social media platforms.
Depending on the social media site, different algorithms may be employed to promote content. You may, however, adhere to a few general best practices to make your content as visible as possible across all social networking platforms.
Common best practices to increase the visibility of your content on social media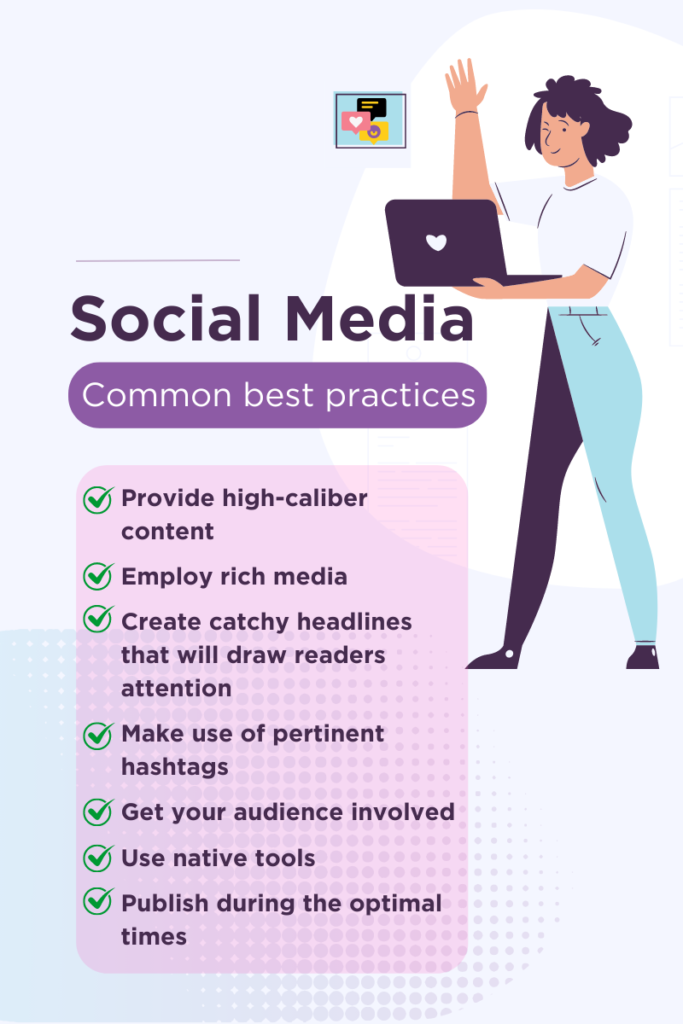 Provide high-calibre content: Good material that is interesting, instructive, and relevant is likely to do well on any platform.
Employ rich media: Adding visual elements to your material, such as photos, videos, and infographics, can make it more engaging and help it stand out.
Create catchy headlines that will draw readers attention: Your headlines should be succinct, intriguing, and pertinent to your audience.
Make use of pertinent hashtags: to assist consumers find your content by classifying it. To boost the visibility of your posts, include pertinent hashtags.
Get your audience involved: To foster relationships and raise the profile of your material, reply to comments and interact with your audience.
Use native tools: Many social media platforms include in-built features that can be used to boost visibility and interaction. You can use platforms like Facebook Live, Instagram Reels, and LinkedIn Stories, for illustration.
Publish during the optimal times: When your audience is most active, post your material to enhance the likelihood that it will be seen.
Algorithm of Different Social Media Platforms
Facebook
This famous social media platform is owned by Meta and was founded by Mark Zuckerberg in 2004. Facebook is used by people all over the world, but it is most popular in North America, Europe, and Asia. The platform is most popular among users aged 18-54. The current Facebook Algorithm considers following crux points for promoting any content. 
Format: Facebook takes into account the format of content. By format it means text, images, videos, or links. It determines how well the content performs in the format that it is posted in.
Relevance: The algorithm considers how relevant the content is to the user's interests and preferences, as well as how recently it was posted.
Engagement: The algorithm also looks at how much engagement the content is getting, such as likes, comments, and shares, to determine how interesting and engaging it is.
Authenticity: Facebook also aims to promote content that it believes is authentic and trustworthy, and may use signals such as post history and account behaviour to evaluate this.
Recency: The algorithm gives priority to new content and may deprioritize older content to ensure that users see the most recent and relevant posts.
While determining which material to promote, Facebook also takes into account the user's personal connections, such as their friends and family, as well as the frequency and duration of their platform use. You can also use strategies like posting at the most active times for your audience, using relevant keywords and hashtags, and engaging with your audience through comments and messages to boost your content's visibility and engagement.
Instagram
There are a multitude of algorithms, classifiers, and processes, each with its own function rather than just one Instagram algorithm at work. Instagram initially just displayed photographs in chronological order. The app's various sections—Feed, Stories, Reels, and Explore—now use individual algorithms to help users find content.
Besides following the general guidelines here are some other useful tips that could help you optimise your content on Instagram for promotion in 2023:
Use hashtags: Instagram allows users to follow hashtags, so including relevant and popular hashtags in your post can increase its visibility to potential viewers.
Use Instagram Reels: Instagram's algorithm has been favouring short-form video content, such as Reels, in recent years. Including Reels in your content strategy could potentially improve your chances of getting promoted.
Make sure your reel is cropped in the proportion of 9:16
Reels with time duration of utmost 30 seconds gets more reach
Instagram Feed: In feed you see the content from accounts you follow. You can frequently appear in the feed of those followers who frequently like, comment, and share your content. The algorithm for feed also takes into account other details about the content that is shared such as time of sharing, duration of content, location, etc.
Instagram stories: Instagram stories are yet another powerful native feature to grow your social media marketing success. Instagram recently started the feature of story like and for stories section Instagram considers certain things. These are-
When a user clicks on your profile after watching a story.
When viewers send you Direct Messages.
When they finish watching all the stories or simply skip them.
Instagram explore: This does not prioritise the images, reels, videos that are posted by the accounts the users follow. Instead the algorithm for the explore section considers the activity and interest of users based on their past engagements.
Post consistently and frequently: Posting frequently does not mean spamming the users' feed by posting multiple content in a day. This can lead to decrease in followers. You should post in such a manner that you do not spam your users' feed but you appear in their feeds so that they do not forget about your brand.
Build a strong community: Building a community of followers who are actively engaged with your content and brand can increase the chances of your content being promoted by Instagram's algorithm.
LinkedIn
LinkedIn is a social platform for professionals. It is best for B2B marketing. The crowd on this platform basically comprises job searchers, entrepreneurs, businesses promoting their own brand, leaders, and professionals of different industries.
Best practices for LinkedIn
Check your grammar: Since it is a platform full of professionals LinkedIn emphasises on the content with correct grammar and punctuation. Posts with tremendous grammar mistakes can go to spam. Also, do make sure that your post is easy to appreciate and comprehend. Adding rich media such as images, videos, and infographics can help your content stand out.
Less is more: Hashtags are the easiest way to categorise your content and make it easier for users to find based on some general terms. But if you think that you are improving your reach by using more and more hashtags, then my friend, you are violating the algorithm. The best way is to use only 3 most relevant.
Tag suitable people: Beware!! Tagging a bunch of connections can put your account into spam. Tag utmost 5 people who will surely like, comment, or share your post. This leaves an impression that your content is appropriate and relevant as per the user interest.
Leverage LinkedIn's native tools: Use LinkedIn's native tools such as LinkedIn Live, LinkedIn Stories, and LinkedIn Polls to increase engagement and visibility of your content.
The first hour: LinkedIn works on a test and trial algorithm. That is to say that after posting the content LinkedIn first promotes it to the accounts who are already connected to you. If you get good engagement from them LinkedIn promotes it further. Post your content when your audience is most active to increase the chances of engagement.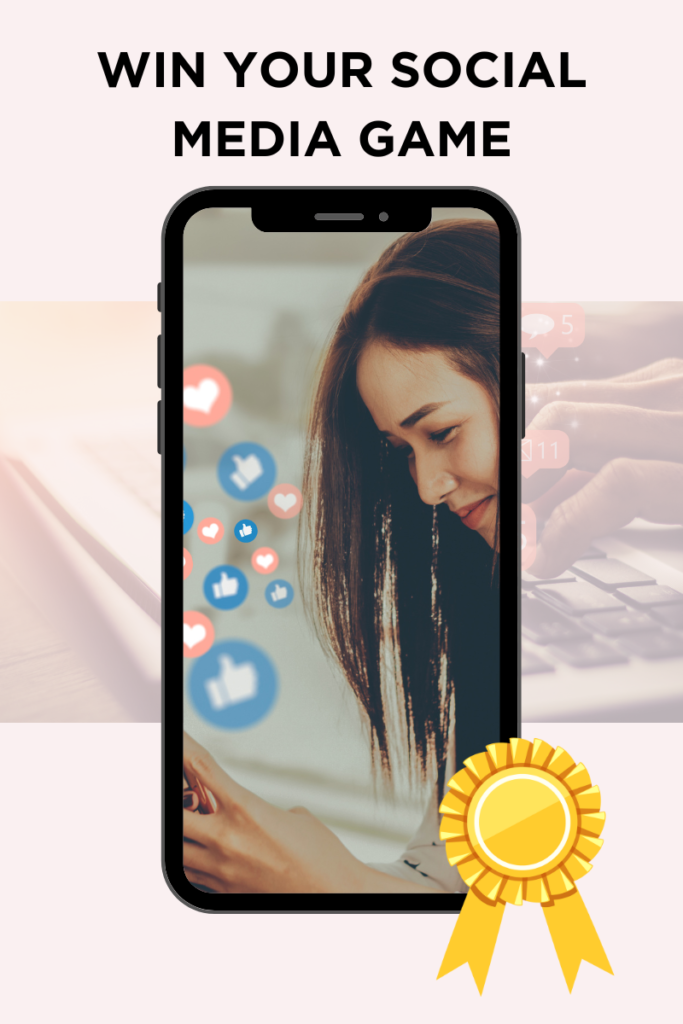 YouTube
YouTube's algorithm is used to determine what content to promote, which may help you understand how to optimise your content for promotion on the platform.
Relevance: The algorithm considers how relevant the content is to the user's interests and preferences, as well as the user's search history, watch history, watch time, and subscriptions.
Personalize your own YouTube thumbnails to increase viewership: The number of views on your video can significantly be impacted by an alluring thumbnail. After all, the first impression is the last impression, and whenever someone searches for a YouTube material, their first impression of it will be your thumbnail.
Quality: This includes factors like video and audio quality, video length, and content accuracy. Instead of putting everything in one video, create a playlist as the digital era is full of binge-watchers. The average watch time of a video on Youtube is 2-6 minutes. Moreover, do not forget to post transcriptions at the bottom of your videos for better understanding of users.
Freshness: The algorithm gives priority to new and recently-uploaded content, while deprioritizing older content to ensure that users see the most recent and relevant videos.
Metadata: YouTube considers the video's metadata, such as title, description, and tags, to determine what the video is about and whether it is relevant to the user's search query.
Audience retention: YouTube looks at how long users watch a video before clicking away, known as audience retention. Videos with high audience retention are more likely to be promoted.
Search keywords: The algorithm also considers how well the video matches the user's search query, and whether the video's title, description, and tags contain relevant keywords.Your headline is the first thing users will see, so make it compelling and relevant to your content.
YouTube also considers the user's personal preferences, such as their watch history, geographic location, and the frequency and duration of their use of the platform when deciding which content to promote.
Twitter
Tweet high-quality content: Twitter's algorithm prioritises high-quality, engaging content. You have to ensure your content is genuine, informative, and adds up value to your audience. Your tweets should be concise, interesting, and relevant to your audience. Use compelling headlines and calls to action to encourage engagement.
Use rich media: Twitter allows you to add photos, videos, and GIFs to your tweets. Using rich media can help your content stand out and increase engagement.
Use relevant hashtags: Hashtags are the easiest way to categorise your content and make it easier for users to find based on some general terms. Use industry-specific and relevant hashtags to increase the visibility of your tweets.
Retweet and engage with other users' content: Retweeting and engaging with other users' content can help increase your visibility and build relationships with other users. Respond to comments and engage with your audience to build relationships and increase the visibility of your tweets.
Wrap up
Social media platforms serve as a great opportunity for businesses to thrive in sales and convey the story of their brand to their followers. To ensure that your material is optimized for optimum visibility on social media sites follow these guidelines. But, bear in mind that the algorithms they utilize are continuously changing, hence, you have to update yourself regularly.
Rashmika Digital, the leading digital marketing firm in Indore, provides amazing online marketing services that cater to the ever-changing environment of social media algorithms. Understanding the complexities of these algorithms is critical for any business looking to maximize their online presence and efficiently reach their target audience.
Rashmika Digital understands the importance of social media algorithms in affecting content visibility and interaction. With our digital marketing skills, we use strategic techniques to optimize content for algorithms, ensuring that their clients' messages reach the right audience at the right time.